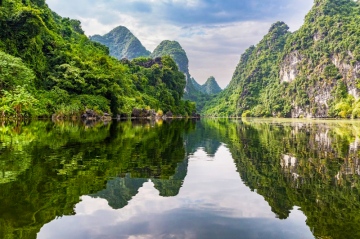 Trang An is not only the most important and prominent landscape in the North of Vietnam but also recognized by UNESCO as a world heritage site. Every year, this place attracts millions of visitors to enjoy, it is worth mentioning that the number of foreign tourists is very large. Trang An can be seen as the brightest pearl in a series of landscapes of Ninh Binh.
Trang An is an eco-tourism site located in Trang An World Heritage Site in Ninh Binh Province. It has been ranked by the Vietnamese government as a particularly important national monument and has been recognized as a double world heritage site since 2014. Trang An was originally called the South citadel of Hoa Lu ancient capital, now it is Hoa Lu ancient capital. Trang An with a system of limestone mountains, with geological age ranging about 250 million years. Over a long period of weather changing on earth, climate, advancing sea, regressive sea, it has carried hundreds of valleys and caves. In this landscape, there are also many wetland ecosystems, limestone forests and relics associated with the history of the Hoa Lu ancient capital.
Trang An is a region of water and clouds. The bottom of the blue lake reflects the identical cliffs. There are 31 lakes and lagoons connected by 48 caves that have been discovered, including 2 km long cross-water caves such as Dia Linh cave, Sinh Duoc cave, May cave, etc. Each cave has a unique appearance. As the name suggests, the cave has many changeable stalactites, water flowing out from the ceiling of the cave to make the air in the cave cool. Hang toi (Dark cave) has a wide and narrow cave suddenly changing. Sang Cave is sparkling with strange iridescent stalactites.
The most special is the Wine Brewing Cave and the Com Cave with the legend of the giant brewing wine here, bringing wine and rice to the mountains to eat.
A part of Trang An caves has been put into operation for tourism in Ninh Binh. Currently, visitors to Trang An often take 2 tours, a 3 hour long boat tour and a climbing tour.
+ Rowing route: Trang An Grottoes has a distinctive feature that is forms of yachts on water valleys created by many rocky cliffs connected by water caves without having to go back. It takes about 3 to 4 hours for us to sail through these caves.
+ Mountain climbing route: The road tour is 1.6 km long, visitors will walk to Tran temple. This route starts from Cay Bang wharf. Visitors will walk, climb through three consecutive passes. The first pass is Cay Pass. The second pass is Vai Pass. And the third pass is the Tran temple pass. Currently, this climbing path has been built of wide stone steps. On the way to Tran temple, there were 7 wooden house as a resting place for tourists when climbing.
Cre: gody.vn